China has imposed antidumping and countervailing duties on Australian barley and wine and has imposed import restrictions on a host of products from Australia including coal, lobsters, timber, red meat and cotton. While the first two products are allegedly pursuant to investigations conducted in a manner consistent with WTO Agreements, the other import restrictions are being done through verbal direction or under claims of labeling, pest or other bases. CNBC reported on December 17th the products restricted and the alleged justifications for import restrictions imposed by China on Australian goods. See CNBC, Here's a list of the Australian exports hit by restrictions in China, December 17, 2020, https://www.cnbc.com/2020/12/18/australia-china-trade-disputes-in-2020.html. As CNBC reported,
"The relationship between the two countries has deteriorated since Australia supported a call for an international inquiry into China's handling of the coronavirus, which was first reported in the Chinese city of Wuhan. Last month, Australian news outlets reported that the Chinese embassy there had threatened the
Australian government and handed over a list of alleged grievances toward Canberra.
"China has taken several measures this year that impede Australian imports, ranging from levying tariffs to imposing bans and restrictions."
A press account in the Sydney Morning Herald on November 18, 2020, reviewed developments from an Australian perspective and included the "list of grievances" reportedly sent from China to Australia. See Sydney Morning Herald, 'If you make China the enemy, China will be the enemy': Beijing's fresh threat to Australia, November 18, 2020, https://www.smh.com.au/world/asia/if-you-make-china-the-enemy-china-will-be-the-enemy-beijing-s-fresh-threat-to-australia-20201118-p56fqs.html. The "list of grievances" China claimed it had with Australia, copied in the article, is reproduced below: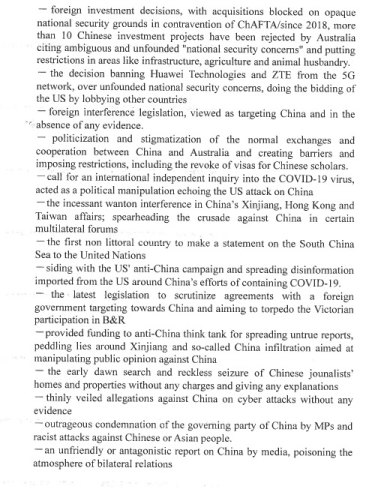 In a South China Morning Post article from December 20, experts in Australia and China indicate that China's actions are intended to both punish Australia and dissuade other countries from taking similar actions that displease China that Australia has taken. See South China Morning Post, China-Australia relations: Beijing's trade restrictions are meant as a warning to Canberra, but will they work?, December 20, 2020, https://www.scmp.com/news/china/diplomacy/article/3114635/china-australia-relations-beijings-trade-restrictions-are.
It is clear that the import restrictions, if taken for the reasons identified in the list of grievances above, are unjustified and violations of China's WTO obligations.
WTO challenge filed by Australia on China's antidumping and countervailing duties imposed on Australian barley
While Australia has been attempting to deal with China's unilateral actions diplomatically, on December 16th, it filed a request for consultations with China at the WTO on the antidumping and countervailing duties being imposed on Australian barley. The request for consultations was circulated to WTO Members on December 21. See CHINA – ANTI-DUMPING AND COUNTERVAILING DUTY MEASURES ON BARLEY FROM AUSTRALIA, REQUEST FOR CONSULTATIONS BY AUSTRALIA, WT/DS598/1, G/L/1382, G/ADP/D135/1, G/SCM/D130/1, 21 December 2020; WTO press release, Dispute Settlement, Australia initiates WTO dispute complaint against Chinese barley duties, 21 December 2020, https://www.wto.org/english/news_e/news_e.htm. While some press accounts have characterized the WTO challenge as increasing the tensions between the two countries, the reality is that the request for consultations is a proper response by Australia to an action by China that it perceives violates China's WTO obligations. See The Guardian, Australia escalates China trade dispute with WTO action, December 15, 2020, https://www.theguardian.com/australia-news/2020/dec/16/australia-escalates-china-trade-dispute-with-wto-action.
The U.S. and other WTO Members have been concerned for years that China uses trade remedy cases as a means not of pursuing bona fide industry concerns but rather as a means of retaliating against trading partners who take actions, even if WTO authorized, that are against Chinese products. Looking at the breadth of the request for consultations filed by Australia, it would appear that Australia views the investigations as similarly suspect. The request for consultations is embedded below and contains 26 alleged violations of WTO obligations by China in the barley investigations.
598-1

If there is a failure by China to conform to WTO obligations and end the unilateral and unauthorized actions against Australia, one should expect to see additional cases filed at the WTO by Australia to defend its rights.
Comments
China has been a major beneficiary of the multilateral trading system since joining the WTO at the end of 2001. While China has implemented many of the obligations it took on to join the WTO, there has long been concern that China's implementation is subject to unilateral action against other Members where China is unhappy with positions taken by other Members. At the WTO, in arguing against taking up issues like the need for Members to converge to market-based conditions, China has argued that others (in particular the U.S.) are ignoring core principles of the WTO, such as most favored nation treatment. When one considers the range of actions China has taken against Australia in 2020, it is clear that they view most favored nation treatment obligations to WTO Members as subject to China's political whims. China's actions are unwarranted. For a nation wanting to be a leader in developing the trading system, its actions send the wrong signals to its trading partners.